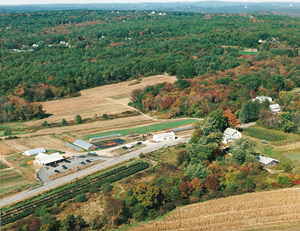 Our farm stand is currently closed for the season.  We will open again on Friday, May 30.     From now until our spring opening, we'll be spending our time cleaning up the fields and doing equipment repair and maintenance.  Seeds will be ordered and planting schedules made.  After the first of the year pruning begins for blueberries, raspberries, apples, pears, peaches and plums.  Tomatoes are seeded the end of January and are transplanted in the greenhouse in March.  Our "off-season" is a busy time!  Hopefully there will be a few moments for resting a bit, too.  Spring will be here before we know it!
A big "thank you" goes out to all of our wonderful customers who love their fruit and vegetables.  We wouldn't be here without you!
We are attending the Natick Winter Market on Saturdays, from 9-1.  It's in a church located on the Natick Town Common.  If you're in the neighborhood, we'd love to see you!  We're selling apples, pears, winter squash, potatoes and lots of root crops.