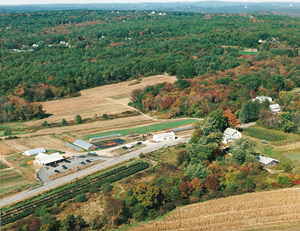 Foppema's Farm's farm stand is now open for the season.  We're off to a great start despite the late start due to our long winter!  We're picking lots of spring greens, lettuce, spinach, Napa cabbage, Swiss chard and more.  From our greenhouses, we're picking some wonderful tomatoes as well as cucumbers.   We also have a beautiful selection of hanging baskets, flowers, herbs and vegetable plants all grown at our farm.  Come on out to the farm and say "hello".
The strawberry season is almost here.  We are picking a few berries already, but the height of the season is just around the corner.  As last year, we will only be selling the berries through our farm stand.  Due to the location of the strawberry field, we won't be able to offer Pick-Your-Own Strawberries.
We will be attending 6 Farmer's Markets this year.  If you work in Boston, you can find us at the City Hall/Government Center Market Mondays and Wednesdays and at the Copley Square Market on Tuesdays and Fridays.  We go to Natick for their Saturday Market and to Grafton Common on Thursdays.  If you're in the neighborhood, stop by – we'd love to see you.